Why are Rangers fans called Huns?- 3 of the most common theories
Why are Rangers fans called Huns?- 3 of the most common theories
Rangers are one of the most popular clubs in all of Europe. They have a rich history which has stuck to their badge and their name despite the club liquidating and re-establishing itself almost a decade back. Their Old Firm rivalry with Celtic is perhaps one of the most famous in world football.
And when two fanbases hate each other this much, it doesn't help that the rivalry also has religious boundaries that demarcate it as well. with Rangers fans almost always being Protestants and Celtic's, Catholics. One term that has been used by Celtic for Rangers fans is 'Huns', and this term continues to divide opinion and cause controversy regarding its origin, and the intentions behind its usage.
Today, we list out three of the most common theories associated with the origin of this nickname in an attempt to answer this long-debated question. Moving ahead, we discuss why are Rangers fans called Huns in 2023.
Theory #1- Why are Rangers fans called Huns?
This theory is perhaps the most commonly accepted, at least by the Rangers fans. It states that the term is used in derogatory manner as a disrespect towards Protestants by the Catholic Celtic fans and that it has a negative and hateful connotation deeply rooted in religious sentiments. They even move courts to have this word banned and claimed that the term, used as short term for 'honey' in an endearing manner in the UK, is as offensive as fenian– a derogatory term used for Catholics.
Theory #2- Rooted in WW II history?
Another popular theory behind the origin of the term is that Rangers players refused to serve during World War II and wanted to stay closer to their homes. While this may not be 100% fact-checked, it makes one wonder why such a normal human action for self-preservation would earn the whole fanbase such a nickname.
And if that is the case, then it doesn't label them as cowards or anti-nationals. They would have, of course, loved their country but not everyone is built to give up on their families and risk their lives for a futile cause such as war.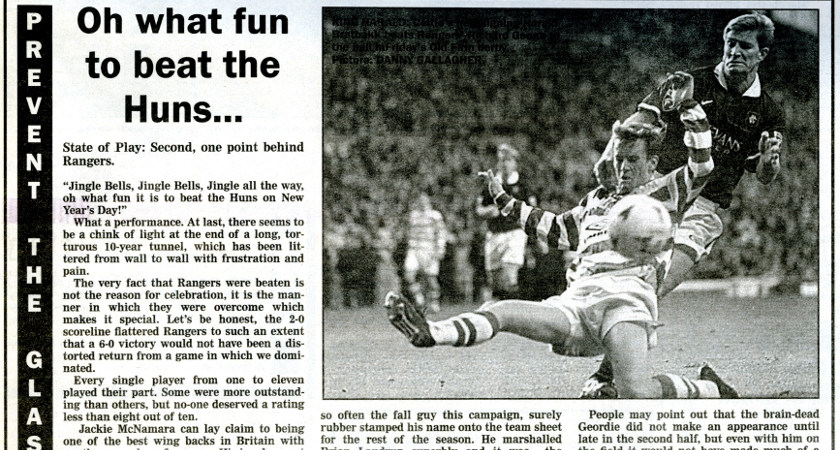 Theory #3- Why are Rangers fans called Huns?
Another popular, and perhaps the most backed theory, is that a local newspaper labelled them as the Huns for the first time in the 60s due to their violent behaviour on away days. Rangers fans were known to create ruckus before and after games, sometimes leaving a trail of destruction in their path.
It is important to note that a section of each major club's fanbase is subject to idiotic, violent tendencies and it's not only that Rangers fans were out there destroying towns on away days. But incidents such as during the game against Wolves during that time changed the narratives. The Rangers were called Huns by the local press in the aftermath of their destructive action as a reference to the armies of Attila the Hun– due to their numbers and violent war-like actions.
Comment on "Why are Rangers fans called Huns?- 3 of the most common theories" and let us know your thoughts on this nickname for the Rangers fans.
For More stories like Why are Rangers fans called Huns?- 3 of the most common theories, click here
Follow us on Instagram and check out our YouTube channel to stay in touch with the latest happenings in football.