Who is David Brooks? 24-year-old Bournemouth footballer diagnosed with cancer
Who is David Brooks? Bournemouth footballer diagnosed with cancer
It is with a heavy heart that Bournemouth FC announced that one of their footballers, David Brooks, has been diagnosed with cancer- a stage 2 diagnosis of Hodgkin Lymphoma. The player is expected to undergo treatment this week after a diagnosis was made on 13th October.
Who is David Brooks? The Bournemouth footballer tragically diagnosed with cancer
David Brooks is a 24-year-old footballer who plays for Championship side Bournemouth and the Wales national team. Born in Warrington, England, Brooks had a youth career at Manchester City as a kid and was later transferred to Sheffield United's academy.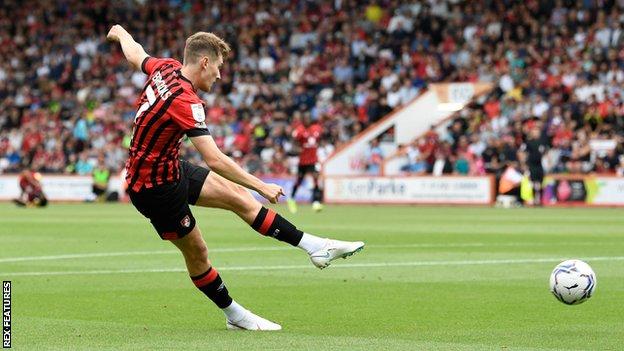 He even represented the senior Sheffield United team but was sent out to Halifax Town to get some experience as a youngster. He was bought by the Cherries in 2018 and has since been a reliable player for them. He signed a long-term contract with the club in 2019 and impressed Eddie Howe.
The manager, on the occasion of Brooke's contract signing, said: "David has impressed everyone from the minute he stepped through the door, with his mature, creative performances on the pitch backed up by a good attitude and professional lifestyle off it. This contract means he can concentrate on developing his game with us, and it's been an excellent start to David's AFC Bournemouth career."
Who is David Brooks? Bournemouth footballer diagnosed with Hodgkin Lymphoma
Brooks plays as a midfielder with tendencies to drift wide. He holds the number 7 jersey for the Cherries and represented both Wales and England at the youth level before deciding to represent the former on the international stage at a senior level.
We wish Brooks a speedy recovery. Given that the cancer is at stage 2, it has a better chance to be eliminated considering if it was found in the later stages. One of the many upsides of being in professional sports is the early detection of such life-threatening diseases and prompt treatment from experts.
Hopefully, it's not long before we see Brooks whip his magic in the Championship, and hopefully soon, in the Premier League.
Comment on "Who is David Brooks? Bournemouth footballer diagnosed with cancer" and let us know your thoughts on the article.
For More stories like Who is David Brooks? Bournemouth footballer diagnosed with cancer click here.