Cristiano Ronaldo on Burj Khalifa: Dubai Globe Soccer Gala Awards 2021
Cristiano Ronaldo on Burj Khalifa: Dubai Globe Soccer Gala Awards 2021
The 12th Edition of the Globe Soccer Gala Awards took place on December 28th in Dubai and Cristiano Ronaldo, Kylian Mbappe, and Robert Lewandowski bagging awards on the night. But one thing that caught the eye of football fans worldwide before the award ceremony even began was Ronaldo's image on Burj Khalifa.
The towering skyscraper in Dubai, Emirates, hosted the award. The building itself, like the Eiffel Tower in Paris, has been known now for its impeccable light-work which gives it a unique and beautiful look in accordance with the occasion.
Cristiano Ronaldo on Burj Khalifa
And before the award ceremonies, the entire Burj Khalifa building showed an image of Cristiano Ronaldo in his honour. The Manchester United striker featured in a Juventus shirt and the 163-floor tall, 828m building gave a fitting representation for the larger-than-life image Cristiano Ronaldo has built for himself.
The image for Cristiano Ronaldo on Burj Khalifa can be seen below: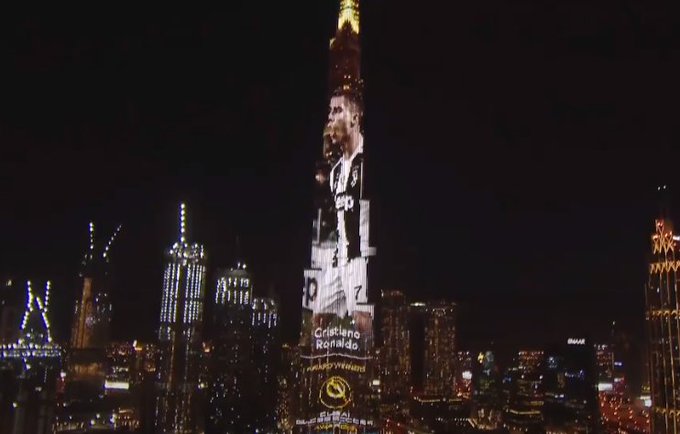 What award did Cristiano Ronaldo win at Dubai Globe Soccer Gala Awards 2021
Cristiano Ronaldo took home the Top Best goalscorer of all-time Award at the ceremony after breaking the record for scoring the most official goals in football history earlier this year. He was unfortunately not there to attend the ceremony as he had to prepare for Man United's game against Newcastle.
But the former Real Madrid and Sporting winger sent a video message for his acceptance speech for the award. With over 800 career goals, more than even Pele's official tally, Ronaldo is truly a legend of the game. He also broke Ali Deia's record for most international goals in men's football history earlier this year.
Kylian Mbappe won the Men's Player of the Year award, while Robert Lewandowski bagged the goalscorer of the year award after an incredible calendar year with Bayern Munich.
Chelsea and Barcelona won the men's and women's club of the year respectively. It was a star-studded night with a lot of other awards being handed out: List Courtesy of Business-Standard.com.
Defender of the Year: Leonardo Bonucci (Juventus/Italy)
Goalkeeper of the Year: Gianluigi Donnarumma (PSG/Italy)
Coach of the Year: Roberto Mancini
National Team of the Year: Italy
Agent of the Year: Federico Pastorello
Sports Director of the Year: Txiki Begiristain (Manchester City)
Esports Player of the Year: Musaed Al-Dossary "Msdossary7"
Player Career Award: Ronaldinho
Best Youth Academy in Africa: ZED FC
Special Innovation Award: Serie A.
Comment on Cristiano Ronaldo on Burj Khalifa: Dubai Globe Soccer Gala Awards 2021″ and let us know if you think Ronaldo deserved the award.
For More stories like Cristiano Ronaldo on Burj Khalifa: Dubai Globe Soccer Gala Awards 2021, click here.
Follow us on Instagram and check out our YouTube channel to stay in touch with the latest happenings in football.