Barcelona vs Dynamo Kyiv Preview, Latest H2H record and Betting Tips: UCL 2021/22 Group H, Matchday 3
This might be the season we finally get to see the Catalan giants play in the UEFA Europa League but they would want to prevent that, with the first step being a head-to-head win against the Ukrainian giants this week. On this note, Alley Sport brings you the Barcelona vs Dynamo Kyiv Preview, Latest H2H record and Betting Tips from matchday 3 of this Group E encounter in the UEFA Champions League, season 2021/22.
Barcelona vs Dynamo Kyiv Preview
Barcelona are reeling so far this season, and losing Lionel Messi to PSG is a key reason behind that. The Catalan giants are in financial ruin, leading them to lose important players and signing less-than-average individuals across the pitch. An attack that consists of Luuk de Jong and Ansu Fati isn't scaring anyone anytime soon.
Their midfield is worse, with Sergio Busquets ageing and no creative force to replace Messi in the playmaking area. They are currently bottom of Group E after losing to Bayern Munich and then to Benfica in Portugal. Could this be the season Barcelona do not make it out of the UEFA Champions League group stages? Only time will tell.
Dynamo Kyiv aren't the most attacking or potent team in the world. But they have players to get them a goal when they need it. They are in good form domestically and being above Barcelona in the UCL table will surely motivate them to stay there. The Ukrainians would certainly treat a draw as a positive result, but for Barcelona, that could be the last nail in the coffin for Ronald Koeman.
Apart from the Barcelona vs Dynamo Kyiv preview, the predicted lineup of both teams for the games can be found here along with other key details and information about the game:
Barcelona vs Dynamo Kyiv H2H Record
Dynamo Kyiv were a force to reckon with in the 90s and that's when most of their encounters with Barcelona came about. The two teams first met in the Cup Winners Cup final with Barcelona winning the two-legged tie on aggregate.
Their most recent meeting was last season when Barcelona won both home and away in the group. The same outcome was repeated when the two teams also met in the 2009/10 UCL season. Barce have a total of 8 wins, to Kyiv's 3. 1 game has ended in a draw, meanwhile.
Barcelona H2H record vs Dynamo Kyiv (last 10 games): W-W-W-W-W-W-L-L-W-L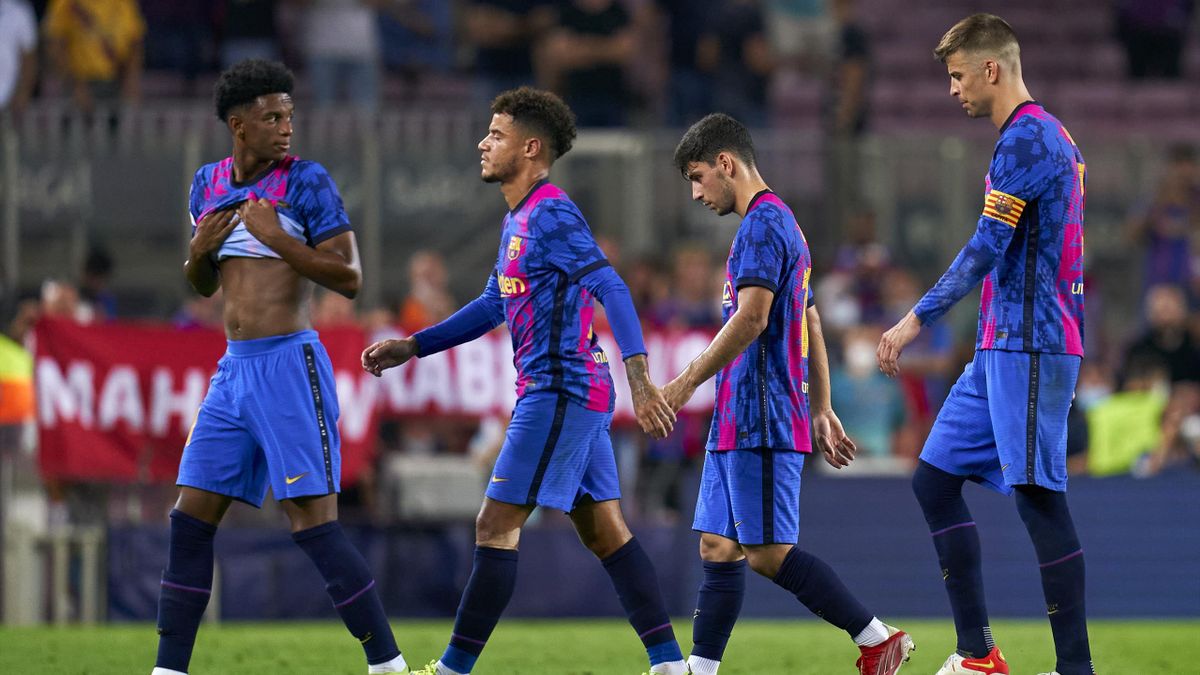 Barcelona vs Dynamo Kyiv Betting Tips
Betting sites around Europe, including OddsChecker, a website that compiles Odds data from the top betting sites in the United Kingdom, place Barcelona as the heavy favourites here at 27/100. A win for Kyiv is unlikely at Camp Nou at 12/1.
The chances of a draw are slightly better at 23/4. Barcelona's Sergio Aguero is placed as the most likely first goal-scorer by the same website at 18/5, followed by Memphis Depay. 2-0 at full-time in favour of Barcelona is the most likely scoreline as per the Odds at 33/5, followed by a 3-0 home win for the Spaniards. The safest money here would, in our opinion, be on a narrow Barcelona win and a clean sheet for them.
Comment on "Barcelona vs Dynamo Kyiv Preview, Latest H2H record and Betting Tips: UCL 2021/22 Group H, Matchday 3" and let us know your views on who will win the game.
For More stories like Barcelona vs Dynamo Kyiv Preview, Latest H2H record and Betting Tips, click here.
Follow us on Instagram and check out our YouTube channel to stay in touch with the latest happenings in the world of football.